At Mantra we offer a wide range of Innovative and advanced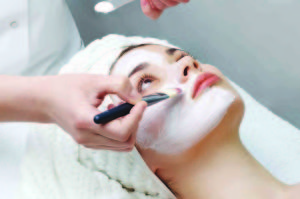 facial treatments for all skin types, our specialty treatments are designed to give your skin the best possible results. If you would like to learn more about any of our specialty salon treatments, please give us a call to speak to our specialist staff.
* All advance facial includes skin analyze with wood lamp, double cleanse, exfoliate extraction massage mask.
ADVANCE FACIALS
Microdermabrasion Facial

$75

Microdermabrasion is a non-chemical, non-invasive procedure that uses a spray of microcrystals to remove the outermost layer of dry, dead skin cells and reveal younger, healthier-looking skin. Microdermabrasion also encourages the production of a new underlying layer of skin cells with higher levels of collagen and elastin, which further improves your skin's appearance. Microdermabrasion is much gentler than dermabrasion. Dermabrasion is a more intensive procedure used to treat deeper facial lines, extreme sun damage, and scars.

Hydro Dermabrasion

$75

Hydro Dermabrasion ( water assisted dermabrasion ) is like traditional micro dermabrasion treatments. it utilises an abrasive tip to pull away accumulated dead cells simultaneously propelling pure oxygen and saline, to deeply flush and purify each and every pore. Hydro Dermabrasion is a excellent treatment for skins that are effected by seasonal changes dryness in winter, lumps and bumps during the warmer months.

Collagen Galvanic facial

$80

Iontophoresis for youthful younger looking skin. Collagen Galvanic facials give much deeper penetration into the skin. Soothes nerve endings and decreases sensitivity. Special serum brings visible and long lasting glow and elasticity.

Galvanic desincrustation

$60

Ideal for oily and clogged skin. ideal for male skin type.

Hi frequency treatment

$65

Antibacterial treatment ideal for acne prone skin and for excess oil production. effective results and faster healing.

Anti-Ageing Micro Current Treatment

$95

Helps to induce tissue growth and production of collagen and elastin which reduce appearance of wrinkles and rejuvenate the skin. micro current used to infuse of vitamin C & A or special serums according to skin. helps to reduce appearance of wrinkles and rejuvenate skin. instant results.

Bio Chemical Peel

from $45
HERBAL FACIALS
Herbal Facial

$45

Deep cleansing facial including scrub, steam, massage & mask.

Pearl Facial

$50

Contains amino acids, minerals and proteins, which strengthen the skin and improve texture of skin. it makes skin look brighter, leave skin glowing.

Gold deluxe facial

$65

Nourishing facial enriched with anti-oxidants, vitamin-C & real gold improves skin elasticity, accelerating cell renewal.

Rejuvenating brightening facial

$75< div>

an intensive bio chemical peel treatment incorporates with deep cleansing facial for uneven skin tone, blemishes and tanned skin. induces tissue growth for healthy young looking skin.

Spa Facial

Indulge yourself in customized deep cleansing facial with extended massage to head, shoulders, décolletage and back.

BLEACHING

Facial Bleach

$20

Whitening Bleach for hands with arms

$39

Bleach for back for tanning removal

$39