Would you like to have that full lash effect without having to wear mascara  or maybe you hate having to
pencil in your eyebrows every day. Why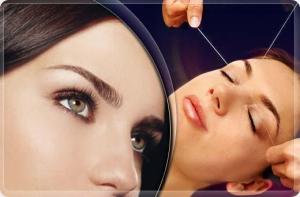 not get them tinted to save you time and effort every morning.
Eyebrow Threading is an art of outlining the eyebrows using a cotton thread. The twisting act of the thread traps the hair and lifts it out of the follicle. It's a very temperate, hygienic, and simple way of removing unnecessary facial Hair.
Eyebrow

Lip/Forehead/chin

Sideburns

Chin with neck

Eyebrow tint

Eyelash tint

Eyelash extensions

Eyelash lifting